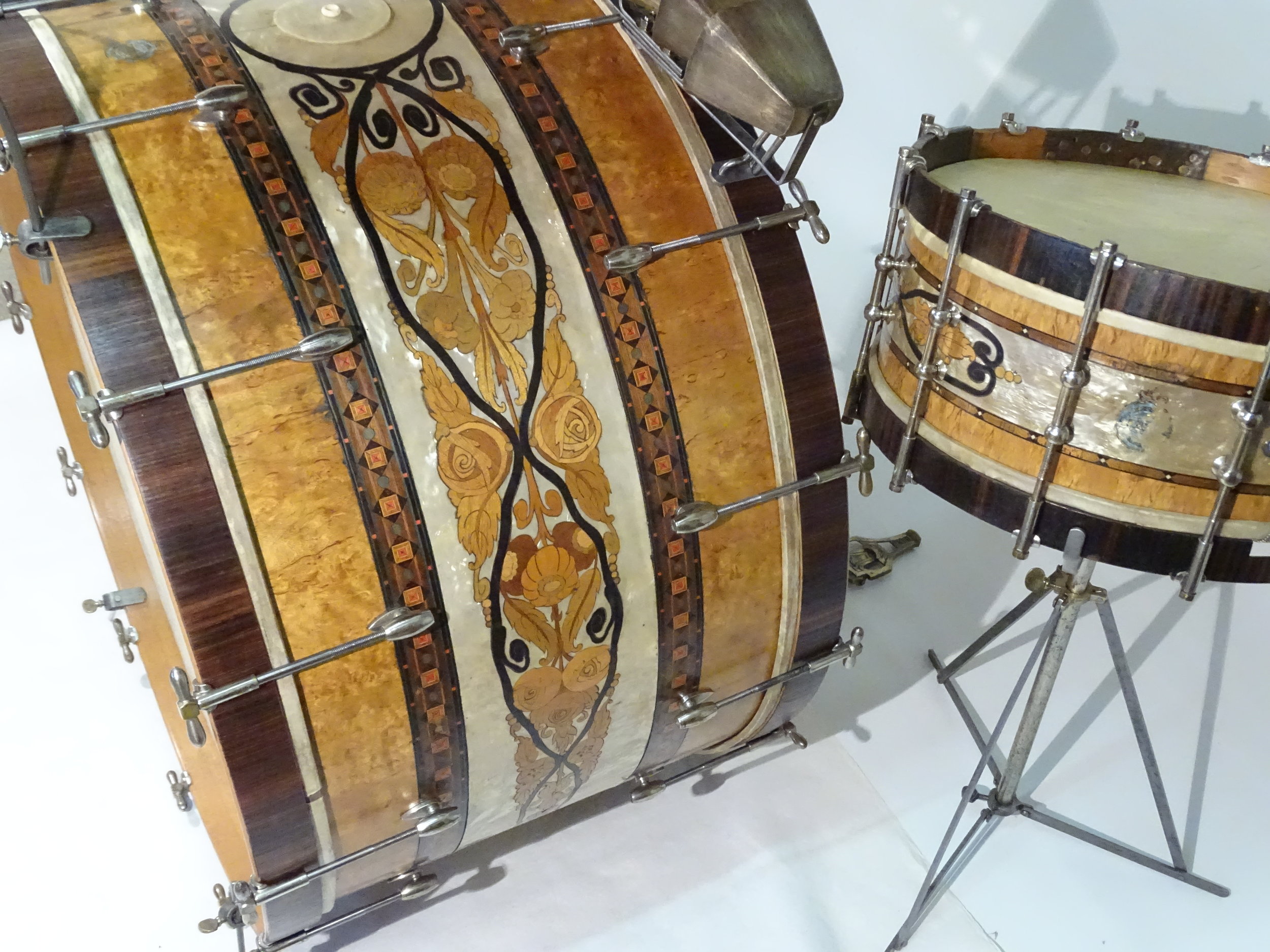 Here is an exceptional and unique drumset in France! IMPERATOR MONDUS drumsets are ultra ultra ultra rare, and this "Luxury" model with marquetry decoration is a real jewel !!
The brand:
Adolphe CIRICHELLI created the IMPERATOR MONDUS brand in the 1920s and almost no information exists on this brand, just some patents, some archives, and this instrument with the IMPERATOR MONDUS badge. This brand disappeared in 1936.
Adolphe CIRICHELLI was Jacques CIRICHELLI's grandfather, more known as Jacques CAPELLE, who also produced drums until 2010.
The drum set :
This is the only complete IMPERATOR MODUS drumset known to this date ! This "Jazz" (drumsets were called "Jazz" in France before the WWII) dates from the late 1920s, and is the "Luxury" model of the brand.... A full dress drumset decorated with marquetry and nacrolac (plastic pearl)... All shells are composed of 3 plies (1924 A.Cirichelli patent) without re-rings and astonishment with no bearing edge... All lugs and rods are nickel-plated brass ... and dimensions are metric, (GC 69 cm / CC 35.7 cm / Tom 24 cm) ... Decoration and marquetry are an exceptional fineness. It's a work of art from the 20s era !!
This "Jazz" is now 100 years old, and I have restored it for a French Museum (MUPOP), with restoration technics specific to the Museums (bone and fish glue, special wax to protect all metal parts, etc...). After more than 70 hours of restoration, this "Jazz" has regained its yesteryear beauty. It's an ultra rare jewel.
Best,
Emmanuel
olDrums Vintage & Custom
http://www.oldrums.fr/