By Bob Campbell, with Pete Stanbridge and Todd Sucherman
As a collector and player of custom and vintage snare drums, I'm always on the lookout for a drum that speaks to me in a unique way. I believe each great snare drum can evoke a different wavelength of creativity. That's why drummers should have multiple snare drums in their arsenal (at least that's what I tell my wife). I like to think that I'm not alone in this respect. In addition, I've become enamored of the whole process of drum construction and drum restoration; there is a level of artistry and perfection in the work of the master craftsman that gets my heart racing. A drum that possesses the attributes of fine construction, distinct sound and visual appeal is the best of all worlds (practicality, personality and fine art). The absolute pinnacle would be to document the entire process from conception, to build out, to my hands. This would be heavenly, or perhaps described as "empyrean" (def. "the highest heaven").
That "ahhhhhh" (imagine angels singing) moment came to me a few years ago when I had the pleasure of chatting with Todd Sucherman after a fabulous STYX show in Indy. When we first arrived, Todd had this strange twinkle is his eye; something clearly had him excited. He waved me over and said, "Look at this!" On his cell phone was a picture of a segment shell snare made of various exotic woods, dark wood hoops and beautiful gold-plated hardware. I had never seen anything like it but it did remind me of Pete Stanbridge's work (I have the ProMark/Stanbridge 50th Anniversary and Stanbridge Ancient Kauri snares). Indeed it was from Pete. This was a prototype for the planned Todd Sucherman signature snare drum, later to be known as the Empyrean. I felt quite privileged to get an early look, but on the condition that I keep it hush-hush until the public release. Todd described how it was intended to be the most personalized and unique drum ever made, with pictures of the construction along the way, hand-signing and testing of each drum by Todd (including a video to that effect), hand-made walnut case, several signed CD's and DVDs (Methods & Mechanics I & II!) from Todd, and assorted "toys" made from the exotic wood offcuts. Subsequently, this started an email string between Todd, Pete and me which tells the story of how my Stanbridge/Sucherman Empyrean (#1) came to be. While I have been completely thrilled with this drum in all of its perfection, much enjoyment came from the periodic emails describing each step of the Empyrean's construction from Pete. It was like a great story where you read each chapter, waiting for a climactic ending, but in the end, disappointed when it's finally over. Not so much because you didn't like the ending, but because you enjoyed the story and wanted another. So I'd like to share this "Empyrean biography" with you in hopes that there are also drum geeks in the crowd who will enjoy reading the tale as much as I did.
Introduction:
[My note to Todd] "Todd, it was great to see you in Indy last night. My wife (Helen) and I thoroughly enjoyed the show. I don't know how you play with such intensity in that heat! Musicians like yourself who despite busy tours give exceptional performances night after night always impress me… I enjoy your playing a great deal. While I will never be a drummer like you, I am inspired by your playing and always seek to improve my skills (hopefully with the help of your videos :).
Thanks for showing me the pics of your new signature snare. I will contact Pete Stanbridge today about obtaining one. Knowing your taste in drums, this design looks to be superb.
Wishing you the best."
---------
After submitting a ton of questions to Pete Stanbridge essentially asking him to justify the cost of an Empyrean (including asking for a second top hoop, i.e., one for playing and the other for display), I received this email:
[Pete S.] "Hi Bob! Thanks very much for your thoughtful and detailed reply - we really appreciate the feedback, and your comments.
I believe that the whole nature of this offering makes it a very difficult comparison with anything that has come before. The 100+ hours I budget for each completed piece is a real number, and that doesn't include Todd's time commitment, or any of the significant material costs of creating this instrument and package.
It remains to be seen what kind of audience there is out there for this instrument. I am sure, however, that neither Todd nor I want to compromise on the package we have created, because we both feel that it really does represent excellent value, and sets a new benchmark in terms of creativity and quality in a percussion offering.
I realize that we are going to take some shots on the forums for a few days, and I have no doubt that there will be people who will become very passionate in voicing their opinions. But, I am exceedingly happy with the work, and if I ever start feeling beaten up by the forum crowd, I know that watching and hearing Todd play this drum will make me feel better."
[Todd S.] "It's my belief that a drum of such personal detail and care has never been offered in a package so unique. The fact that it comes with a book detailing the manufacturing alone has never been offered to my knowledge. That coupled with it being sent directly to me for playing, tuning, approval, signing, and pics/video detailing that process as well is beyond what has ever been offered. Then getting tickets and backstage passes to a show…I think that takes the package over the top.
I know Pete spends 100+ hours on the drum with materials so expensive and rare that they've never donned a drum before. All these things combined... I can't see any drum out performing it, or out pricing it. Hence, the price reflects the work, materials and package.
A Bugati is a Bugati, and a Fazioli piano is a Fazioli. A Patek Phillipe is a Patek Phillipe, and this is what we set out to do, and I believe we have accomplished just that. Something unparalleled.
Thanks again for sharing your valuable thoughts with us both. It means a lot, and it's fun to have had the opportunity to share with you and only you-- our vision before it becomes reality.
Hope to see you soon, Bob!"
---------
I then decided to be the first to order an Empyrean snare drum…
[Todd S.] "Hey Bob, First off, thanks for the well wishes. My deepest thanks in trusting me along with Pete. I'm happy and proud to have you be our #1! I have no doubt you will be beyond thrilled. I just went and spent about 30 minutes playing in the studio, and on the Empy, and she sings, and has a soul. Everyone of my drummer pals that have played it just melt.
If you haven't seen clips from the new Methods & Mechanics II DVD, here are 2---I use it on the "Melodic" clip and it's of course peppered through the big trailer.
Melodic Song Form: http://www.youtube.com/watch?v=REqodfjCY8Y
14 minute performance trailer: http://www.youtube.com/watch?v=uV_hO2kZixU
Thanks, Bob…"
And so the story begins (each email will be referred to as a chapter).
Chapter 1: The Tease
[Pete S.] "I took a few pictures of the stock for your Empyrean this afternoon, although there has not been a lot of progress beyond sourcing materials thus far. I have a few projects closing by the end of this month, and will be able to dedicate some more time to roughing out your shell blocks in order to get them down to moisture equilibrium soon. I'll shoot some more pictures of all of the wood for your instrument and send them along then. After the Christmas holidays, I will start doing some very gentle microwave drying to stabilize the burl segments, and then I would anticipate beginning construction in earnest in the Spring. I am budgeting one full month of shop time for your drum and accoutrements, although if I need more time then I will take it to make this one perfect.
For now, I thought you might enjoy a mock-up of the basic shell design patterned on Todd's drum, as well as a detail which illustrates the difference between the Amboyna and Afzelia burl eyes (and color). I don't know about you, but this stock gives me chills up and down my spine."
Chapter 2: As the Drum Turns
[Pete S.] "Hi Bob - Hope you have been having a great summer, and that all is well with you and your family.
As we approach the one-year anniversary of the Empy project, I thought it was high time for an update of your drum. The pictures below illustrate some of the progress to date.
As I may have mentioned earlier, one of the most ticklish aspects of working with this wood is its varying density, which makes drying it without cracking and checking difficult and time consuming. I have had your wood wrapped in brown paper for many months (the paper mitigates the speed at which moisture can leave the wood cells), but in order to make sure that we have reached moisture equilibrium, I prefer to use a microwave drying technique. I stack up the rough cut blocks with small oak stickers between them, and then run each package through the microwave on a very low power cycle a few times each day for about a month. As the water leaves the wood cells, the weight of the package decreases, and when it beings to rebound quickly (within a day or two) I know that we have achieved equilibrium with the surrounding air. If there are no checks present at this stage it is very unlikely the piece will ever develop them.
I also measured an overall weight for just the drum shell wood just so that we can track the amount which ends up as waste through offcuts and shavings.
In image 5485 you can see just how little wood remains as offcuts after the mitering process, although to be fair this does not include the initial rough cutting of the material as it came in from the supplier. With wood this dear, I keep every singles scrap though, and much of it will reappear in some other form later in the project.
I have included a couple of beauty shots to give you an idea of the massive amount of figure in these blocks - every single one has burl eyes and grain swirl in it, and the interlocking effects take on a much more dazzling 3D sort of effect once the shells is turned on the lathe.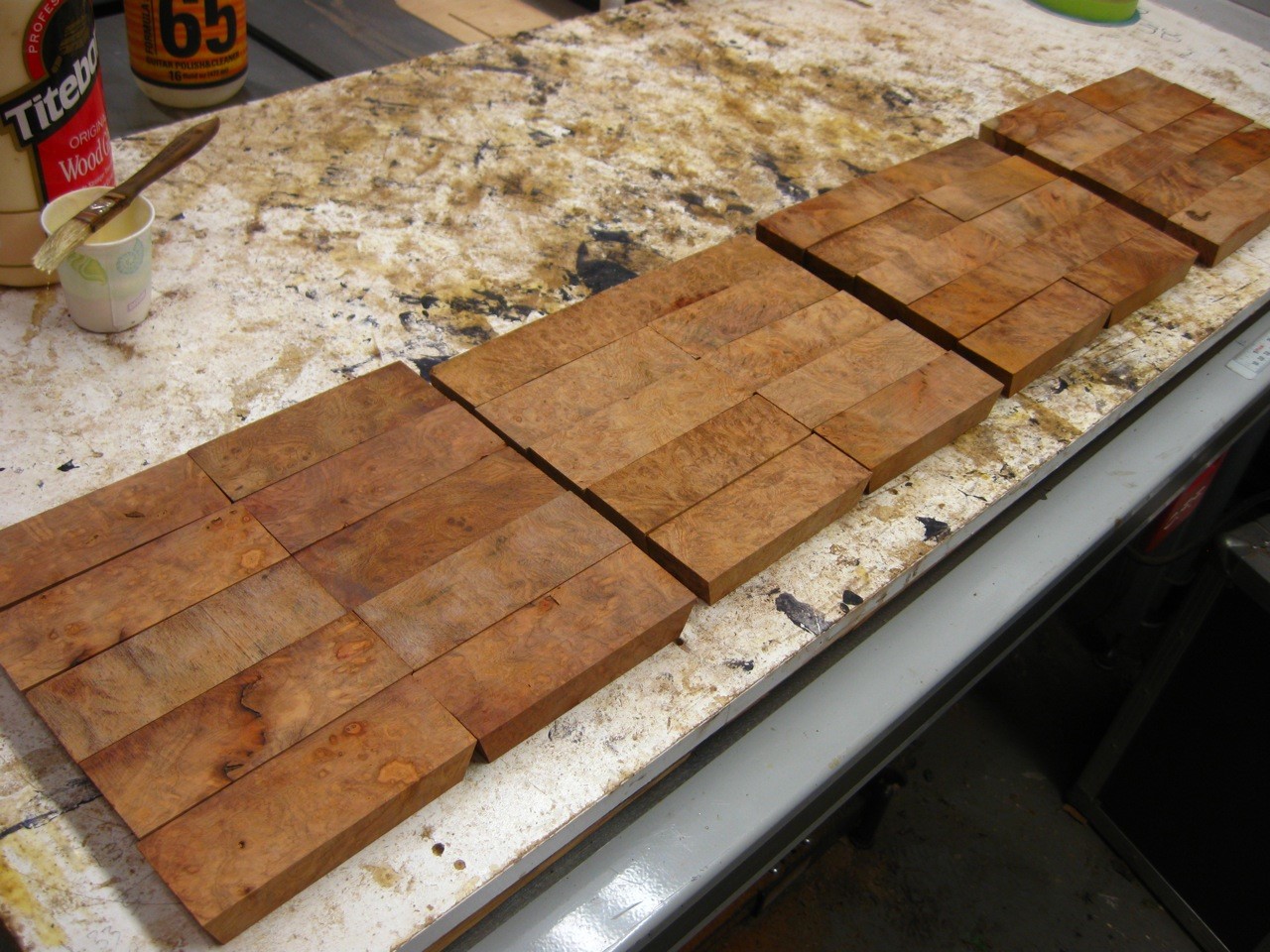 Finally, we have a shot with the rings glued up and under clamp pressure, and then after the clamps are removed. Although there doesn't appear to be a lot of colour contrast between the Amboyna Burl rings (1, 2, 4 & 5 from bottom) and the Afzelia Burl, once the finish starts to take hold, it should become much more apparent. I spent a lot of time making sure that the joinery for these rings was first class, and the seams are as fine as I can make them.
The next step is to leave the rings for a few more days, and then flatten them and glue them into the shell blank form, with a faceplate and sacrificial maple ring on one end. I will take lots of photos as we proceed, and now that things are rolling you can expect far more frequent updates.
More soon, Bob - all the best…"
Chapter 3: So Far, So Good
[Pete S.] "Things are good on my end, and I will have another Empy photo update for you in a week or so, but there have been no drying or checking issues with your shell or hoops, and the figure and colours in this drum are going to be really spectacular. I have been using some of the shell offcuts for handles and other elements of your accessories kit, and there are a couple of items that will definitely be one-offs due to the time and complexity of their design. I will shoot a few pictures of that stuff too, although I don't want to give away all of the juice in advance.
All best Bob - photos and commentary will be in your inbox by next Friday."
Chapter 4: Wood Blocks are not Just for Kids
[Pete S.] "Hi Bob; Congratulations on the Ludwig Triumphal score (note: I had recently purchased a 4 X 14 Ludwig Wild Rose Triumphal from Bun E Carlos) - I know you play your pieces, but you must be spending lots of time just staring at this one too I bet. I would love to come and ogle your collection at some point - probably not in the cards for this year, but I do want to make a junket some time soon.
For the past while I have been working on your hoops, case and throw-off. I am really enjoying spending the time to make every part of this instrument special, and to make sure that I do justice to you, Todd, and the supremely exotic materials. Sorry if that sounds precious.
As I got to thinking about it, I realized that with this drum it only makes sense to include a 'Players Hoop' right from the outset. I did think about having it follow along in a separate carton, but then that didn't seem very Empyrean, so I have redrawn the case so that I can squeeze it in there (I hope). As you will see from the photos following, I am building three hoops for each drum, with each hoop consisting of 25 individual pieces of wood (12 finger-jointed Bubinga blocks, 12 finger-jointed African Blackwood blocks, and one solid inlay stripe of hot iron bent Blackwood). By contrast, most of the hoops I build would use just 10 blocks.
Anyway, here are some photos of your hoops in progress with a little descriptive text below...
6055 - One dandy plank of perfectly seasoned quarter-sawn African Bubinga with a nice Beeswing pattern.
6057 - I cut the plank down into 1.5" strips and then split each of these down the middle to provide a book-matched set of hoop segments. Not a whole lot of this material will show in the finished hoop, but I want to make what is visible as interesting as possible.
6060 - Hoop segments cut to size and resting prior to finger-jointing. Hope you don't mind that I called you Rob - I actually started writing Robert but remembered that you used to only hear that when you were in trouble with your Mom. Notice how vertical the grain is running in this wood - this is called quarter-sawn stock, which contributes greatly to the stiffness and durability of the hoops.
6065 - Badass joinery being dry fitted with the balance of your Bubinga hoop blocks looking on.
6070 - I generally use a number 2 grade African Blackwood for my projects and cut around flaws and checks. With the Empys I sought out a beautiful premium grade Blackwood which has almost zero defects and a much more consistent color and grain pattern than the stock I am used to. Here I am re-sawing a block for your hoop blanks using a couple of gnarly old push sticks on the band saw. You can see from the scars their necessity.
6083 – Finger-jointed and ready for the big glue-up. I love working with this material - African Blackwood fills my shop with the most amazing sweet Rose-like scent.
6102 - Blackwood and Bubinga hoop rings glued up and ready to be flattened, sanded and then glued together in pairs. As an added precaution against potential woes in the distant future, I am using an epoxy to bond these layers together, so I need to get them lined up properly the first time or it is all over.
More to follow very soon Bob!"
Chapter 5: One Piece at a Time
[Pete S.] "Hope you are doing well. Here are some more photos of your drum in progress.
5594 - For most of my drums, I will use a thin strip of wood inlaid into the outer shell surface if I want a contrast stripe. With the Empy's, that seemed like cheating, so the stripes are made of solid African Blackwood which go completely through the shell. This is a lot more work though. Here are the Blackwood shorts being sanded to precise thickness.
5598 - the center section of Afzelia Burl has been flattened and sanded top and bottom, and the Blackwood segments are glued and clamped in place individually.
5603 - More Blackwood segments glued in place. The nice thing about doing these one-half at a time is that I can 'tune' the final block to fit perfectly with no gaps at all. The downside is - it takes a whole lot of time!
5612 - Rings 1&2 and 6&7 get glued up in pairs. Again, in one of my traditional snare drums, I would glue the rings together all at once in a custom built vacuum press. With the amount of money and time sunk into these blocks though, I feel way more comfortable using the much slower but more controllable clamp approach.
5613 - The center section (centerpiece?) of Afzelia and Blackwood glued up and sanded to silky perfection. All that remains is to flatten the Amboyna ring pairs and glue the whole shell blank up into...
5625 - ... a very lovely pineapple. I'll start coring the inside in the morning, and very soon this shell will be ready for the beginning of the finishing process.
More soon Bob - I have also been working on a bunch of your goodies in the background, and have a couple of pretty cool items that I think you are going to love."
Chapter 6: Exploring the Woods
[Pete S.] "Please find attached some progress photos of your Empyrean. Working with Amboyna burl is a bit of a double-edged sword - the material is beautiful and utterly unique, while also being extremely finicky due to the many voids and bark inclusions that produce its amazing figure.
I can honestly say though, that this is one of the finest drum shells I have ever built. The joinery is exactly what I was shooting for, and the wild grain and colour in both the Amboyna and Afzelia burl are off the chart. I want the shell to be perfectly flat across its depth so that the gloss reflections are dead straight, and this takes a great deal of care due to the different densities of the African Blackwood and Burl woods, but I feel great about the way this one has turned out. It is also really important that the sanding prep before the pore filling and high gloss stages is done right and that all of the sanding scratches are removed before I change to a higher grit sandpaper. This takes a lot of sandpaper, good lighting and an eye loupe, but most of all patience.
Here are some progress photos with narrative from the last couple of months...
5633 - The outside of the shell is rough turned oversize to reduce the weight and provide a round exterior surface for the next step.
5638 - In order to minimize harmonic vibration and chatter while the shell is spinning, I dampen the free end of the shell with a shop made steady-rest built from a pair of inline skate wheels (retracted in foreground). This reduces chatter and makes for a much better interior surface finish directly off the tool.
5877 - Gorgeous grain swirl and burl eyes a plenty. Although the white balance was wrong in these two pictures, I think you can see why this is the most expensive and prized wood in the world. The shell is still about 1/64th of an inch proud here, but will come down to exact OD with a few long sanding sessions. To get this piece ready for pore filling, I hand sanded with 120, 150, 180, 220 and 320 grit sandpaper before moving to a Random Orbit sander to get rid of any radial scratch pattern. Total time sanding was about 8 hours over three days.
5880 - This is the interior surface directly off the tool - it looks pretty good, but there are still some small radial grooves visible. In order to make the inside smooth and ready for sealing, I spent 3 hours with a sanding block to bring it into perfect focus. The inside is sealed with a few very thin coats of shellac.
5884 - Into the finishing shop. Here a sealer coat has been applied, and the first application of pore filler has been squeegeed onto the surface and baked in my UV oven. This material dries rock hard and must be sanded flat so that it only remains in the pores and voids of the shell. Normally I would use two coats to completely fill the grain - with this wood I am using four. Each cycle takes about half a day to apply, cure and sand back.
5898 - The pore filler is clear so it doesn't alter the appearance of the wood. I use an eye loupe to check for sink-outs in the finish - it is hard to tell from the picture, but this shell is completely filled and just about ready for high gloss. Just a little more... sanding.
5931 - This is the Black Walnut for your drum case. I will re-saw this one plank (12 inches wide by 1.5 inches thick by 72 inches long) to produce a four corner matched case. Still haven't decided on all of the interior fittings, but I will be working on this over the next few weeks, and I will send you some pictures as we proceed.
More soon…"
Chapter 7: Getting on my Case
[Pete S.] "Hope your summer has been going well and that you had a good time with Todd the other night. Please find following some more pictures and commentary regarding your project. I am still on schedule to ship your drum to Todd during this break from Styx dates, so I am hopeful that you will be seeing her in early October as I mentioned in my last message. More to follow as we get closer to a ship date.
Hope you are well Bob - thanks again for your patience and support.
All the best…
6234 - Here are the Black Walnut planks I have chosen for your drum case after being re-sawn. By splitting the boards and book matching them, I can create a 4 corner grain match that flows around the drum case.
6260 - I don't want to give away all of the bells and whistles, but here is the plywood mock-up for your case. It has a bunch of cool features and the inside is going to look dynamite as I am working with a very talented local textile artist on the plush interior.
6336 - One again, here is your sealed and pore filled drum shell prepped for the spray booth and my tried and true UV cure high gloss.
6350 - A final scuff sand prior to applying the Todd signature, and shooting the first three coats of high gloss. The quality of this burl is astounding - every segment is like a little painting.
6365 - Three coats down, another 5 to go. This picture is from a couple of weeks back and the shell is now complete and ready to be finish sanded and buffed.
6394 - In the meantime, I have been working on your hoops. Here I am truing up the hoop blanks in preparation for drilling the tension rod holes. I built a super cool measuring jig (using a laser pointer) to indicate some of the major diameters, but all of this work is done by hand.
6396 - Next, the hoops are locked into a rotary indexing fixture I designed, which allows me to drill any number of equally spaced, accurate holes in hoops from 6 to 26 inches.
6403 - Turning African Blackwood is both a challenge and a joy. It is necessary to re-sharpen my chisels and gouges after only a few moments of contact with this incredibly hard and resinous wood. But - the finished surface really is incomparable.
Chapter 8: Can You Box That To Go, Please?
[Pete S.] "Hope you are doing well and getting into that Fall kind of groove. We have been having some beautiful days recently, including a number of high temp records and a bearable amount of rain, so no complaints about the weather (for the moment). I did just make my appointment to get the tires swapped over to our winter studs however.
Here are some photos of the progress of your Empy over the last few weeks. I have spent a great deal of time on the case and interior, as well as all of the little amenities that will be nestled on board. At present, the cases are with the artist who is doing the interior fabric and foam. We have done a bunch of different hand dyed textile samples and I think the finished effect is going to be great.
6427 - I'm making an African Blackwood pen here - at over 2,000 pounds, this is perhaps the largest lathe ever used to turn a 2 oz. pen.
6430 - I tried a few different designs for drum key handles before I settled on one I really liked. This is an 'also ran' in Afzelia Burl.
6434 - In order to achieve the best 4 corner grain match, the walnut for the drum cases needs to be book matched and laid out properly. I really didn't want to mix up any of the parts after all of this work.
6436 - Here I am cutting the box joints for the case joinery on my table saw. It takes a good number of test fits before the jig is dialed in to run the actual parts.
6437 - Woot! - didn't mess up and the boxes fit together with a satisfying amount of persuasion.
6440a - Much sanding is required to prep the boards for finishing. I used three coats of Danish Oil followed by paste wax for a baby's bum smooth surface.
6441a - Another of those operations that could go horribly wrong (but didn't). After they are glued up and the finish is applied, the lids are cut off the cases on the table saw.
6444 - The spare 'Player's Hoop' rides along in the lid of the case, along with a pair of Todd's signature PM 330s.
6446 - I decided to build a sweet little Rosewood box to hold some of the luxury items accompanying the drum.
6447 - Still not sure how I will hinge the lid, but something will suggest itself I'm sure. They kind of have a baby grand feel to them I think. Holy Faziloi!
6451 - Of course the primary purpose of the case is to protect your Empyrean, so the structure of the insert and surround is very important.
6453 - These babies are ready to ship out for the interior fabric install. I don't do a lot of flat work (as the wood-turners would call this), but it is satisfying despite being excruciatingly slow.
I'm back to finishing up hoops and shells, along with all of the million other little details that these drums require. We're very close to a ship date now - I have been keeping in touch with Todd regarding his schedule so that we connect during a break from touring. Hopefully I'll be able to have these in the air in the next couple of weeks. I will keep you posted.
All the best"
Chapter 9: Exotic Toys for Drummer Boys
[Pete S.] "Here are some pictures and commentary from the past few weeks. I have been working through the last details for your project, and we will soon be ready to ship her off for Todd's shakedown, but I want to make sure I am happy with every aspect of the instrument and package before it moves on. Its almost complete and I am pretty sure that you are going to love it. As you can see, I tend to make a number of variations for each item in the extras box - let me know if there is something that you really love, but otherwise I will just make sure there is a nice variety of wood species.
Here are some photos and commentary…
6466 - A few of the pens I have completed - from L to R we have Big Leaf Maple Burl, African Blackwood and Cocobolo.
6468 - Some keychains in (clockwise from the top) Roasted Birdseye Maple, Curly Maple, Amboyna Burl, Ebony and Snakewood.
6471 - Drumkeys (clockwise from top) in Maple Burl (w/ chrome), Cocobolo, Amboyna Burl, Curly Koa, Cocobolo (w/ chrome), Figured Cocobolo.
6482 - Here is the case lid. Local textile artist Kumi Stoddart dyed the fabric using fern leaves as a resist to create the patterns, and hand-stitched the lining and foam cushioning. I'm really pleased with the overall effect of the textile, and each case will be completely unique.
6494 - Here's a shot of your throw off handle (prior to Swarovski's). I used 3 pieces of Amboyna Burl with 2 sections of African Blackwood for strength and stability, and epoxy to hold it all together for the long haul.
6506 - Each hoop receives an African Blackwood pinstripe made from solid stock. I carefully cut the Blackwood on the bandsaw and sand it to precisely .124 of an inch to press fit into a .126-inch groove. I pre-bend the inlays using a heat gun to avoid cracking them while installing, and scarf joint the ends so the seams are invisible.
6510 - The inlay is glued into the groove and clamped up overnight, then the hoops are sanded perfectly flush and the finish is applied.
6513 - These are solid wood badges with gold foil embossed on Amboyna Burl and African Blackwood - let me know which one you would like on your instrument.
6514 - Here is the seam in the Blackwood pinstripe after sanding - it is dead centre in the photo. Not bad, eh?
6519 - And finally, the case with almost all of the bells and whistles in place. Hope you like it - I think it does the drum justice nicely
All Best - more news soon…"
Chapter 10: All Lacquered Up and Giddy
[Pete S.] "Great speaking with you just now, and I forgot to ask if winter had overtaken you yet. We got a few inches last night, but hopefully that is the end of it for a while.
Here are a few more shots of your instrument in progress. I didn't include any pictures of your hoops, but they are completed as well, so we are really getting down to the final few details now. I'll keep you updated on the shipping status to Todd over the next week or so.
6558 - The final wet sanding stage, after many hours of power and hand sanding. To bring the lacquer up to a high gloss, I start by machine sanding through 800-grit, and then wet sanding by hand to 2000.
6561 - This jig allows me to spin the shell (slowly) and hand cut, sand and polish the bearing edges to any profile. I use this jig to rotate the shell while I hand cut the bearing edges with lathe chisels. Notice my little shop-made steady rest reducing vibrations in the foreground. Sadly, my daughter can't find her inline skates these days.
6564 - After the edges are finished I use a stationary buffing machine and a number of ultra-fine compounds to bring out the gloss in the body of the shell. The completed shell after polishing. The burl looks like it is buried under glass.
6565 - Looks pretty darn shiny I think. The wildly interlocking grain in the burl is kind of mesmerizing.
6579 - More green tape. Remember the old adage - measure 4000 times, drill once. It still freaks me out to map and drill holes for the hardware - nowhere to hide if I screw up here. She's mapped out and drilled and now I can exhale.
6580 - My heart rate returns to normal after the tape is gone and I have verified that the results are perfect – Wowza! The way light shimmers and refracts when you look at some woods from different angles is called chatoyance. Yep - this baby's got that in spades.
Hardware tomorrow. I'll let you know how we are doing very soon."
Chapter 11: An Empy is Sighted in Canada – News at Eleven
[Pete S.] "Happy New Year! We left Newfoundland to travel to Ontario to see the extended family on Dec. 18th - just in time for a major ice storm that brought down about 25% of the trees in my parent's community, and knocked the power out for the better part of a day. Their place escaped major damage but the neighbours took a direct hit from a Maple tree and lost their brand new deck. After lots more snow and cold conditions in and around Toronto, we flew back home on New Year's Eve to find that St. John's had been buried under 120 cms of snow over the time we were away. On January 2nd the power utility started rolling blackouts in an effort to stave off a major outage because of the increased electrical demand from the cold temps. Unfortunately, this didn't work, and January 3rd our power went out for 30 hours during a blizzard with the temperature at minus 19 and wind speeds of 120 kph. Another 40 cms of snow and a half dozen more blackouts over the next few days kept things frosty and uncertain, so schools remained closed for three days until the grid was stabilized. We have a generator to keep our well pumping and the fridge and freezer running, along with one room heated, but once my stockpile of gas started running low we discovered that every station in town was out of fuel. Fortunately it has started to warm up a little today, and we are looking at a fairly mild stretch for the weekend at least.
So, it has been quite a start to 2014. Needless to say, I haven't spent much time in the shop up until now.
Your drum however is done, and I am just working on a few additional details with the case and accoutrements. The drum is amazing - I am very proud of this one, and can't wait for both Todd and you to have a chance to shake it down. My plan is to have it out to Todd in the next couple of weeks so that it is waiting for him after this run of shows, and then we'll bring together the final elements to the package. I'm including some progress pics and will be shooting the 'catalogue shots' in a few days - I'll forward these once they are done.
Hope you had a great Christmas holiday Bob, and all the best for 2014.
Photo details are as follows...
6582 - Case is almost complete - I have only a few little details left on the exterior (like a Todd signature).
6585 - Custom fitting the accessory box is time consuming but very fun for a wood nerd like me.
6600 - Yowza! She's a total babe, and I think you are going to be floored by this one.
More soon"
Chapter 12: One Step Forward, One Drop-kick Back
[Pete S.] "Some troubling news from Todd today. He arrived home this morning and discovered that the Empy case had sustained some shipping damage sometime during its long journey from me to him. He suspects that it was dropped on one corner with enough force to split the 5/8th-inch solid Walnut panel in the lid section. I had sent it via Canadapost Expresspost, as I have had very good luck with them - this being only the second piece they have ever damaged. The carton I used to ship was the biggest they allow, and despite a healthy amount of bubble wrap, it didn't stand up to their abuse I guess.
The bright sides are as follows…
The drum itself is perfect - there is not a scuff or any damage whatsoever. I have another identical case that I will have complete by Friday - I just need to add a couple more embellishments and get the accoutrement insert done and she will be ready to go.
This time I will be shipping via UPS - it is considerably more money, but they will take a larger carton so I will do a double box thing and we will be fine.
As you can imagine Todd and I are both supremely bummed out by this and can appreciate how you must feel about it too. I'm including a couple of pictures to tide you over until you have the drum and case in hand. I'll let you know when the replacement box goes out and the ETA to Austin.
All the best…"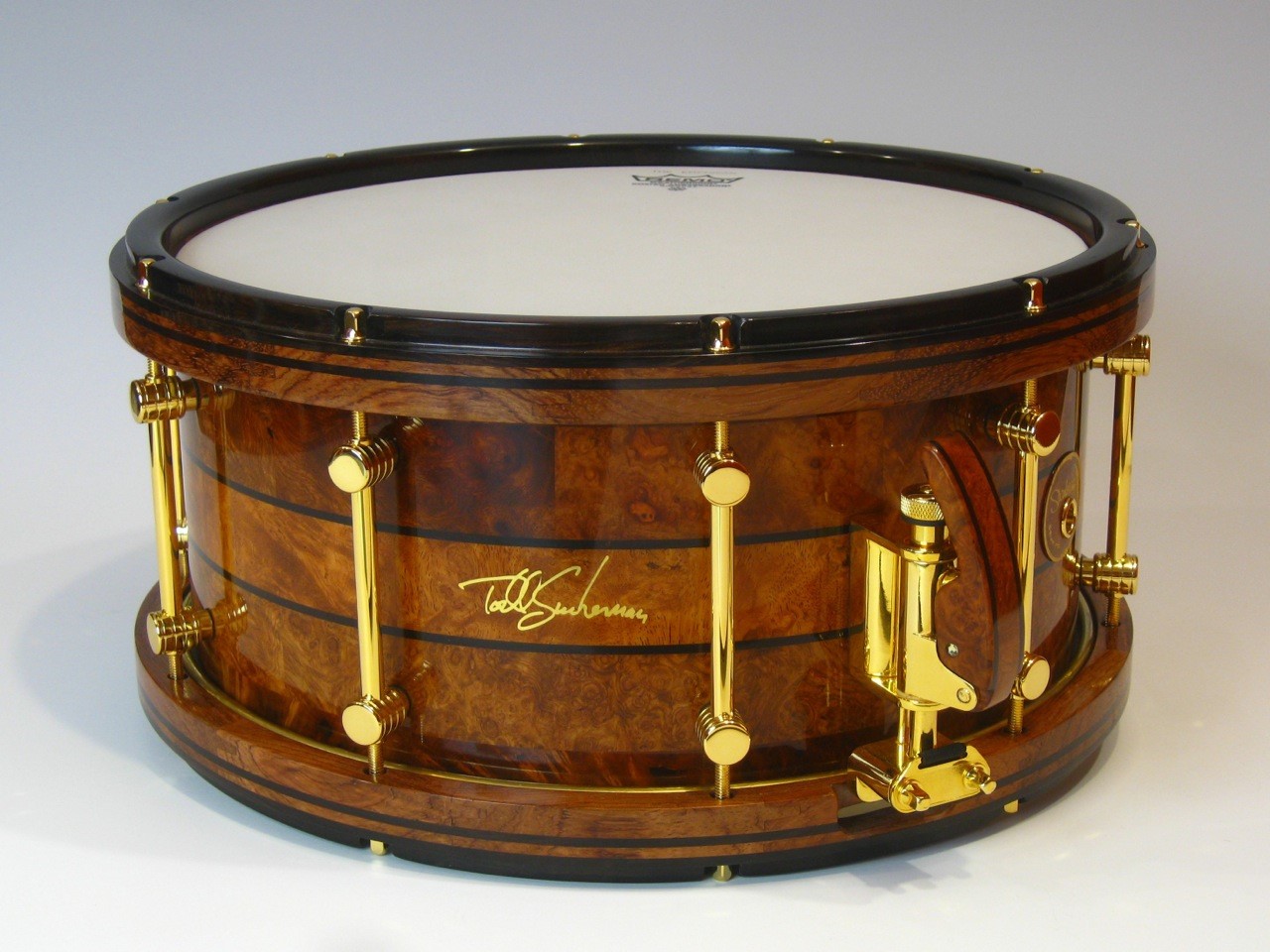 Chapter 13: In God We Trust; the Postal Service Will Take More Prayer
[Pete S.] "The new case and accessories are on the way to Texas and are guaranteed by next Thursday. I am using Purolator this time around, so hopefully they will be more gentle than the nasty Posties, although I have packaged this baby up like… well… a baby, so I am expecting a safe trip.
More soon - all the best…"
Chapter 14: And in the Beginning, There was an Empyrean
[Todd] "Hi Bob, I bring good news!
The box arrived safely today. I have spent part of the day in the studio tuning it up and taking pics and vids. Pete and I feel that we should send the luxury accouterments and other special things in a separate box than the one that contains the drum. While this takes away a bit of the "wow" factor when opening the box, it creates a "safe" factor that will stand a greater chance of everything arriving in a pristine state. So that notion wins the day. All the luxury items fit inside the case, there a space for a pair of sticks, all this will be obvious and of course as shown in the picture book that Pete is sending you directly.
I was hoping to ship this out tomorrow but Monday looks like a greater reality, as my mother is in for a visit and it's evening time late on Thursday. I know my UPS guy so I can set something up for a Monday pick up with swift ease. Sorry to add a couple extra days, but it will all be worth it.
I will send you tracking info and please let us know when the eagle lands. We await your feedback, and we hope you are as thrilled as we are. You are #1 in the most personalized signature instrument ever offered before in history. From my home to yours (originating at Pete's of course!)
Thanks, congratulations, and I will email you on Monday
Cheers, Todd
PS. Here's a teaser..."
Chapter 15: The End and The Beginning
Note: I had surgery on my thumb (tendonitis, a.k.a., Trigger Finger) the day my Empyrean arrived.
[Pete S.] "Thanks for the message and I hope your hand will heal perfectly and quickly.
I'll admit that I have been holding my breath for the past few days, as the prospect of the drum or this case being damaged would have been a little bit much for me after all of this. I am including a couple of shots of the interior of the case, just so that we are on the same page about how things fit together, even though I'm not sure if you have the time or mobility to put it all together yet. You will notice the little spiral bound photo album in the photos - this was for the first case and accouterments package, so I redid it with the new gear and it is on the way to you by mail - should be there very soon. The idea is that this fits in the little padded pocket with the Styx CDs and DVDs.
Thanks for your stoic patience throughout this project. It obviously took some twists and turns that none of us were expecting, and I have to admit that I seriously underestimated the complexity of some of the elements of this whole concept. However, I am extremely happy and quite proud of your instrument and all of the accompanying bells and whistles, and I do feel like we have created something completely different and special here. I look forward to chatting with you soon, and hope for a speedy recovery for your paw."
[Bob email to Pete & Todd] "Well, my dream snare drum has arrived. My wife helped me unpack the drum today - truly stunning! The case is really wonderful (and heavy). Well worth the wait. Thanks so much. I only wish I could play it. It will have to wait. Todd - thanks for the vids! Very nice collection of exotic wood toys and cool stuff to add to my shrine of Todd/Taylor/STYX. The pics of the drum in progress are particularly special to me.
That's the limit of typing for today…hurting a bit now the anesthetic's worn off…
Thank you Pete for your meticulous attention to detail. It really pisses me off though that I can't play it! When my hand deals, it will definitely be the first drum I play!"
Chapter 16: Epilogue
[Bob to Todd] "Doing much better - thanks! Can play only a limited time and nothing with any great dexterity. Just happy that it only hurts a little... Loving my Empy!!!"
[Bob to Todd] "Had a good time playing the drum today. My hand is much better since the surgery. Glad to have my thumb functional again! BTW, this drum sounds as good as it looks – phenomenal!"
So was it worth it? Did the drum speak to me (without alcohol or drugs)? Indeed, it is one of the most breath-taking wood shell snare drums I've ever seen or heard. I continue to enjoy the way it sings when I play (and exponentially more so when Todd plays!). The wood hoops warm the tone, add some punch and produce wonderful, articulate cross-sticking and rim-shots. The sensitivity is to die for. I've had friends come over and play, and they've been equally impressed.
Richie Jarvis (freelance drummer, Australia) was the recipient of Empyrean #2 and was equally blown away by the sound, look, and build quality.
"Just after NAMM 2015 I took delivery of of my Stanbridge/Sucherman Empyrean (Build No 2 ) and from the first opening of the case I was in love with this fine piece of art but I wasn't able to really to give the drum a proper shake down until my return.
Once home I soaked up what I would call the ultimate collectors snare drum down to the finest details like the Swarovski crystal in the snare drum lever, then came the fun part. The tonal range of this hand made drum was phenomenal with an overtone was dark and very chocolaty tuning from the low "baseball bat to a pie" all the way to "crank city" it was simply breathtaking but no matter where the drum was tuned it never lost its personality.
One major test I have with any drum is the rim click and I was not disappointed with a rather potent but very pleasing woody crack, The Empyrean from the rim click, ghost notes to a full blown shotgun like crack has a refinement of pure class at any volume and volume this drum defiantly has.
Recently my Empyrean was on loan to Todd himself on the Melbourne leg of the Drumscene live tour and he made the drum sing, from a medium tuning point this got the entire backline staff's attention and started to draw in a small crowd to not only see Todd's playing but to see the beauty of The Sucherman Empyrean. I think what really amazed me about the drum after that weekend having seen it being played by the man himself at full force, no holes bared hard hitting playing was the wood hoops…….not a single mark was left, simply one of the most amazing pieces of drum art ever to be created."
This drum is one for the history books. I hope that someday 100 years from now, this drum will have been passed down to another, and that owner will value not only its beauty and character, but also the pedigreed history that it embodies. In each Empyrean, there is the spirit of both Todd and Pete, an essence that lives as long as we remember this drum's story. An Empyrean is born; long live the Empyrean.
---
Empyrean Specs: 6.5X14" segment shell drum (5/16" thickness) with high gloss finish, consisting of rare exotic woods: figured Amboyna Burl, Afzelia Burl and African Blackwood; African Blackwood and Bubinga wood hoops. Fitted with a modified Dunnett throw-off with Amboyna Burl handle and Swarovski crystals. All hardware is 24K gold-plated: 10 Stanbridge brass tube lugs, tension rods, throw-off, butt plate and air vent. Each drum has Todd Sucherman's signature in gold on the outside and a paper tag on the inside with the serial number, date and hand-written signatures of Todd Sucherman and Pete Stanbridge. Each drum comes with a unique Black walnut presentation case lined with foam and velvet.