By Mike Curotto
Hi all,
Here's a snare drum that I have been looking for since my early days of collecting...thank you Ebay! This one wasn't cheap but I wanted it so here we are. A little bit of history here in that the date stamp on this drum is 4112 (December 1941)...Pearl Harbor, WWII and The War Powers Act (Dec. 18, 1941) which caused the 10% Law that proved to be a pretty sorrowful era in the history of American made drums. It looks like this snare drum made the cut and was obviously built just before the "10% Law" manufacturing restrictions were enacted.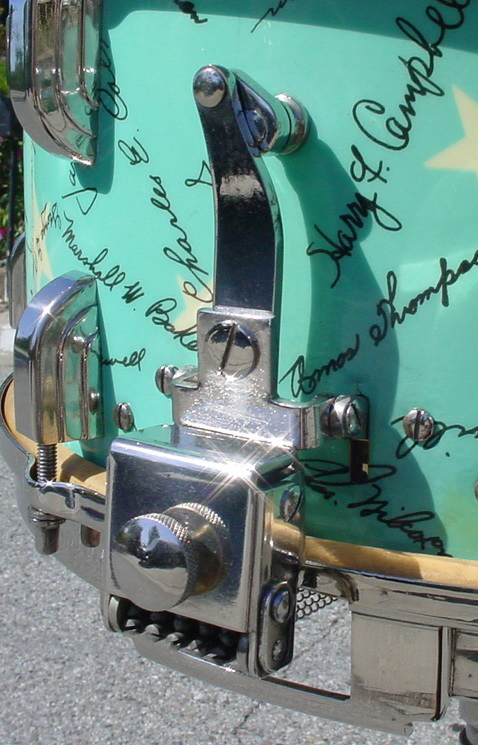 1941 LEEDY 6.5 x 14 AUTOGRAPHS of the STARS BROADWAY PARALLEL MODEL
THE SHELL: Fortunately the Autographs of the Stars wrap came to me in very good-plus condition with no cracks or cancer spots. The wrap did need a good cleaning and polishing though but I was very pleased with the outcome. The white interior was also very clean with a strong 4112 date stamp. The Leedy badge was in great shape with a nice, tight grommet.
THE HARDWARE: The drum arrived with all of the original hardware. The nickel plating had that patina that is very hard to clean and polish by hand so I took the hardware to Les at Avenue Plating so he could "color" the nickel. "Color" in plater's jargon means to clean and polish the nickel plating back to its original bright polished finish. As you can see Les came through like a champ. The last generation (1939-46) Leedy Broadway Parallel mechanism works perfectly and is built like a tank! This mechanism is pretty straight forward but since this was my first dis-assembling of a later Broadway Parallel mechanism I needed to draw a few diagrams and label a few screws but all in all it turned out to be an easy dis-assembly/re-assembly.
I was able to find a pair of era-correct Leedy Hard White calf heads to round out this light cleaning and restoration.
As a lot of you already know these Leedy Autographs of the Stars snare drums are very rare and are easily in the same category as the Ludwig & Ludwig Top Hat & Cane (Swing Sensation) snare drums of the same era.
Enjoy! Mike Curotto