MY TRIPLE TOP HAT AND CANE RESTORATION IS COMPLETE!!
The Ludwig Top Hat and Cane "Swing Sensation" drum set is considered by most collectors to be the holy grail of all vintage drum sets. Top Hats were first made in 1940. They appeared in the Ludwig and Ludwig catalog for just 2 years in 1940 and 41. It was the absolute best drum set money could buy. Ludwig and Ludwig's slogan at the time was "Tops in the Drum World". The Top Hats were their "flagship" drum set. It was the top of the tops. Nobody knows for sure how many of these sets were made, however it's assumed that there were very few. At a staggering $353.85 (about $5,000.00 in today's money), the set was extremely expensive. In early 1942 all drum production declined dramatically as the United States imposed metal rationing during World War II. All of these factors contributed to the a very small number of these sets ever being produced. Fewer than 15 of these sets are believed to still be in exist. There are many questions that revolve around the history of the legendary Top Hat sets. Hopefully this article will answer some of them and probably raise a few more.
1) 1940 Ludwig and Ludwig catalog cover with "Tops In The Drum World" slogan 2) Top Hat "Swing Sensation" cataloge page
Initially the Top Hat finish was only available on the "Swing Sensation" set. This model was a complete outfit that included stands, cymbals, woodblock, and cowbells. It even included sticks and brushes. The drum sizes included a 7" x 14" snare, a 14" x 26" bass drum and 7" x 11", 9" x 13" and 14" x 16" double tension toms". The cymbals, small toms, bells and woodblock mounted to the bass drum on an "1120 Universal Trap Rack". This ingenious arched rail mounting system attached to the batter side bass drum hoop and rested on top of the bass shell on 4 rubber feet. The floor tom sat in a basket style floor stand.
Top Hat drums have surfaced in sizes including 28" bass drums, 14" floor toms and tack bottom toms with date stamps as late as 1948. Presumably these were special order drums that were made some time after the initial offering.
I've had the extreme good fortune to have owned 6 of these Top Hat sets. I never really searched for any of them. They all just found their way to me. I've always had great luck when it comes to finding vintage drums. If there's such a thing as "Drum Karma" then I definitely have it. I still have 3 of these sets. I decided that these drums should be restored to as close to their original magnificence as possible. Every drum (14 in all) required at least some work. Most of the drums were already in excellent condition. Some needed some minor repairs and some were missing a few parts. The biggest part of the restoration was machine polishing all of the shells and nickel hardware. All of the drums had already been meticulously hand cleaned and polished but it was clear that they could be dramatically improved by machine buffing. It's pretty amazing what you can do with a power buffing wheel. It's also pretty amazing how quickly you can destroy a drum if you make a mistake. One false move and you're dead!!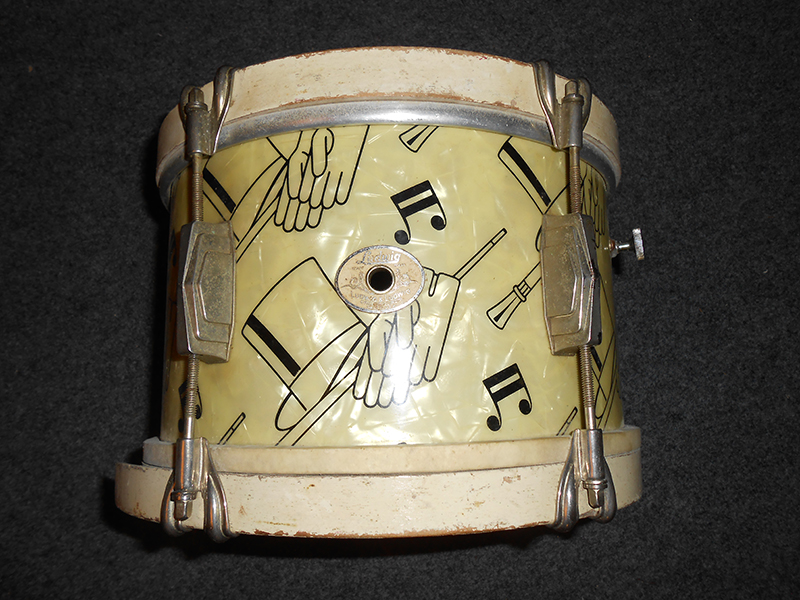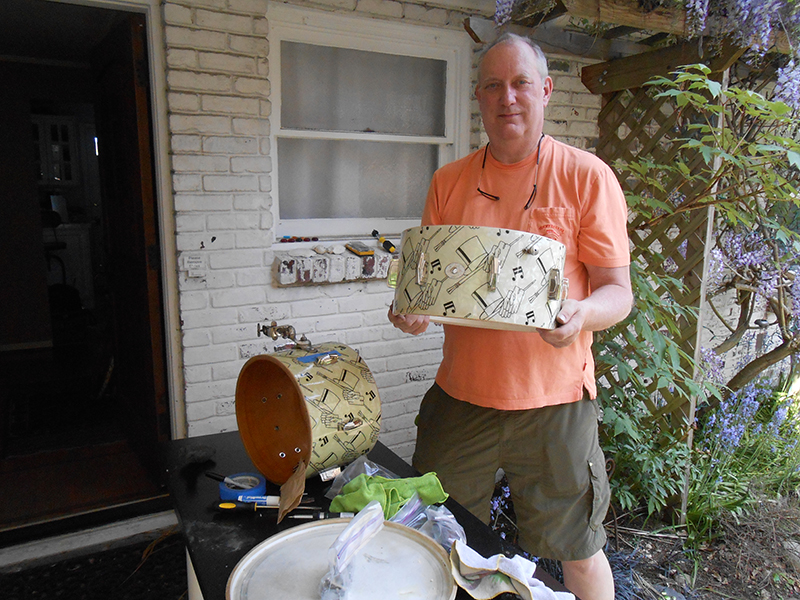 Power buffing the shells eliminated minor scratches, and brought back most of the original color and shine. There was some concern that the black Top Hat graphic might buff off of the shell. Upon reading the original catalog description we discovered this would not be a problem. "The Top Hat design is actually a part of the shell and not "pasted on" or painted on the outside". Power buffing the nickel hardware removed minor scratches, pitting and cloudiness and made it shine like new.
The first step in the project was to completely disassemble all 3 sets. It soon became apparent that we needed to keep everything extremely well organized. You can imagine the potential confusion as we would be sending hundreds of small parts all over the country. I called my good friend and vintage drum historian Paul Black to help me keep everything in line. Paul made sure every nut, bolt and washer was meticulously labeled and organized. This meticulous organization took a little extra time but ultimately saved us a huge amount of time in the end. Not one part was lost or misplaced. I always enjoy working with Paul. He really knows his drums and we get along extremely well. Paul has a very unique sense of humor. We kept our selves laughing the whole time.
The following is a brief description of each of the 3 sets and the details of their individual restorations.
The Wood Hoop "Hank Leja" Set
Hank Leja was a popular mid-western drummer who played in a variety of local swing and dixieland bands. He bought his Top Hat set brand new in the early 40s and played it throughout his entire career. Hank died a few years ago and his daughter contacted me after she inherited his beloved drums. After several months of negotiating I received what remained of Hank's Top Hat set. By the time Hank passed the original bass and snare had disappeared. The snare met an unfortunate end after being loaned to an aspiring 5th grade drummer who apparently didn't cherish it as much as Hank did. Nobody knows exactly what happened to the bass drum. Fortunately, my great friend and long time vintage drum aficianado Tony Lewis had located an incomplete Top Hat set with a 26",13" and a snare in Toledo, Ohio a couple years earlier. I'd purchased them and stuck them in my back room waiting for their matches to surface. Drum karma strikes!
1) A young Hank Leja with his brand new Top Hat and Cane Swing Sensation drum set. Circa early 1940s. 2, 3) Hank Leja in the 1970s with his "modernized" tom mounts.
I was extremely fortunate to receive a collection of photos that document the evolution of Leja's set throughout it's 70+ year run. In the earliest photo, a fantastic studio portrait of a young Hank Leja with his beautiful new Top Hat drums, you can see the most unique characteristic of this particular set. The 11" and 16" toms both have white lacquered wooden hoops. I've never seen or heard of any other wood hoop Top Hat sets. Why the 13" tom has metal hoops is anyone's guess. What is clear from the early photo is that it was like that from the start. Another unique detail about this set is that all 3 toms each have 2 separate date stamps, 11/41 AND 6/42. Go figure??
The 11" tom got mis-placed during shipping. The shippers knew they had it but were just not sure where. It took several months to locate it so the restoration of the rest of the drums had to begin with out it. When I finally received the 11" tom I discovered it need considerable attention. The wooden hoop had separated at the seam, a new tom mount had been mounted on the shell and the wrap and hardware were definitely showing their age. I sent it to Matt Sinyard at the Bonzo Drum Company in Florida. I'd seen a remarkable restoration that Matt had done on one of Buddy Rich's 1950s WFL sets and knew the drum would be in good hands. He easily repaired the damaged wooden hoop. For the sake of continuity, we decided to replace the metal hoops on the 13" tom so that all the tom hoops would match. Matt modified a set of old Slingerland wooden hoops to look virtually identical to the Ludwigs. At this point he repainted all the wooden tom hoops in white lacquer using the original 1940s photo as a reference. Matt is also a master with the buffing wheel. We decided to experiment on the 11" tom to see how well the finish could be restored. Once I saw the dazzling results it was clear I needed to have the entire Top Hat collection buffed. Shipping the 13 remaining shells across the country was too risky and expensive. Fortunately, my old friend and expert drum builder Jerry Garcia from Garcia Custom Drums is right here in Seattle. Jerry painstakingly buffed every remaining shell. Soon, over 70 years of scuffs and fading were gone and the 1940s shells were shining like a new dime!
There were a few small holes that needed filling after Hank "updated" some of the hardware during the 1970s. I sent them to restoration guru Jack Lawton to work his magic. Jack does amazing work. He did a beautiful job of matching the pearl finish and then hand painting the black lines where the Top Hat graphic had been drilled through. You have to look extremely close to even find the repaired holes.
Mike Curotto coordinated the buffing of the nickel hardware on all 3 sets. He knows a couple guys in California that do expert metal restorations. They have done many restorations on drums in Mike's vast snare collection (practically a full time job right there!). These guys are total pros and are very experienced working with drum parts. As my luck would have it both guys got really sick as soon as I sent them my hardware. They had to shut down their shop for over a week, right as my project was supposed to start. This of course put them way off schedule and my job kept getting pushed back. Good things come to those who wait. I eventually got everything, almost 400 pieces. Every part looked spectacular. Nothing damaged, lost or mixed up. Just look at the before and after photos to see what an incredible job they did.
The Metal Hoop Set
I acquired this set locally from the nephew of the original owner. Over 10 years ago the nephew comes into my shop carrying a paper bag and asking questions about restoring old drums. When I ask what kind of set he's restoring he proceeds to pull a beautiful Top Hat snare out of his bag. I tell him he has a very valuable set and encourage him to let us give it the full professional restoration it deserves. He's adamant about doing the restoration himself as the set has great sentimental value to him. I also tell him that if he ever wanted to sell it that I would like to buy it. Again, he has a great sentimental attachment and says he could never sell it. I send him home with a bottle of shell polish and some basic restoration tips. Over the next several years the guy becomes a pretty regular customer. Every time he comes in I ask him how the restoration is coming. Every time the same answer "I haven't started yet but I'm going to really soon". This continues for around 10 years. One day he shows up with the set in the back of his truck and and wants to sell it. I had just sold one of my other Top Hat sets and assumed I would never see another one in my life. Drum karma strikes again! He leaves with a big fat check. I get this Top Hat set (which included an un-opened bottle of drum polish).
This set is by far the best looking Top Hat set I've ever seen. There was nothing to repair. Once the shells and hardware were buffed it looked virtually brand new. I would venture to say this is the nicest Top Hat set in the world. I've seen lots of them and this one tops them all. If there's a better one out there I would love to see it.
The 4 Piece Set
This set was acquired from a prominent mid-west drum collector. He's a good friend of mine who knows more about vintage drums and the vintage drum industry than anyone I know. We talked about this set for years and eventually worked it into a trade. This set needed the most restoration of all the sets. The hardware looked good but the shells were definitely showing their age. There were a few extra holes on some of the drums and the finish on the 11" tom and the snare had cracked and were peeling up. Jerry Garcia back in Seattle did a great job of repairing the finish. He glued down the lifting finish and concealed the crack lines as much as possible. Then he gave the whole set a good buffing and really made them shine. This set really came back to life! In it's own special way I think it's my favorite. It has a lot of vibe. This set never had a floor tom or the rail mounting system that the other sets had. The toms mount to the bass drum hoop. Both of the toms are date stamped 8/41. The bass and snare are stamped 7/41.
The whole project l took about 3 years. It was a huge undertaking. It required a tremendous amount of time, patience, energy, organization and money. Did I mention money? I'm extremely grateful to all of the experts who contributed their knowledge, experience and skill to this restoration. It's extremely gratifying knowing that these iconic drums are now close to their original spectacular condition.
So now what? What do I do with 3 Top Hat sets? As much as I'd love to keep them all I'm afraid I just don't have room. My plan is to find new homes for 2 of the sets. Whichever set remains I'll keep and play in my studio. Hopefully I'll be playing them as long as Hank Leja did.
I welcome any questions or comments. I have lots more photos if any one is interested.